Swinging Patio Doors
Our Swinging Patio Doors are great for rooms with extra space to allow doors to swing into the room. Update your closed porch, sunroom, or patio with our diverse selection of glass designs.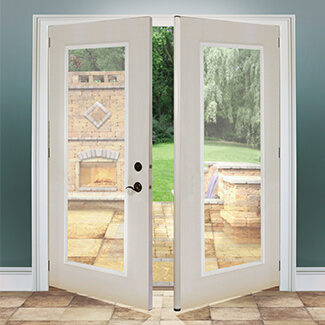 French Swing Patio Doors
Both doors are active, allowing both doors to open, creating a large opening. The door will include an astragal to keep air and water out from between the doors and a locking pin on the secondary door.
Glass Style Options
18 Glass Styles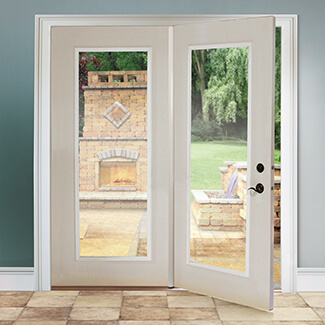 Center Hinge Patio Doors
One door is active and swings from the center of the door system. Center Hinge Patio doors allow for maximum light and only needs room for one door to swing open.
Glass Style Options
18 Glass Styles
Swinging Patio Doors
Glass Options
Arcadian

Aspen

Augustine

Chippewa

Chord

Fluted

Frosted

Kenton

Lakeside

Memphis

>

Morrison

Nova

Olivia

Rain Security Glass

Savannah

Internal or External Grilles

Internal Blinds

Browse designed doors! Shop now on MENARDS.com
Get inspired and select from hundreds of door systems that are designed and ready to add to your cart

Design and Buy
YOUR DOOR, YOUR WAY®
Create the door of your dreams. Select, preview, price and buy online from anywhere